We're pleased to announce that Michael "Pooch" Pucciarelli, an extraordinary up and coming artist in the Pop Surrealism/Lowbrow scene, has been commissioned to create the cover art for the Unspeakable Horror: From the Shadows of the Closet anthology. Visually captivating, Pucciarelli's paintings blend the fantastic and surreal - Mexico's Dia De los Muertos imagery, a bit of Bosch and Brueghul, and MC Escher's' architectural elements with an infusion of tattoo culture.

His acclaimed "rides" series - intricately detailed carnavalesque worlds in which characters are sent careening on macabre rollercoaster rides through worlds populated by movie monsters, skeletons, and underground pop culture icons - reflects his constant exposure to Florida theme parks, where surreal carnival ride facades reflect the false fronts of modern society. Pucciarelli, who is also a renowned South Florida tattoo artist, will be creating an original work in his "rides" series for the anthology.

From his website:




"Raised on a diet of Ray Harryhausen films, H. P. Lovecraft novels, comics, Walt Disney World and other Florida tourist traps, Pooch paints images that seem to exist in a bizarre afterlife. His art is a visual cocktail of these influences—with a shot of lowbrow culture—shaken and stirred, then served up in a souvenir tiki skull on the Day of the Dead. A self-taught artist, he owes much of his painting skills to over ten years of daily tattooing and drawing."

Clockwise from left: "Transylvania Towers" (2005), "Tourist Trap" (2005), and "3113" (2006) by artist Michael "Pooch" Pucciarelli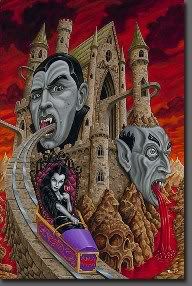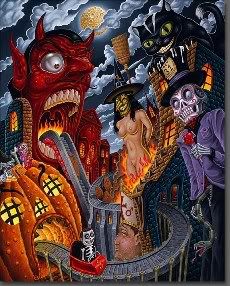 To see more of Pucciarelli's work, visit
www.poochisland.com
.