Dark Scribe Press is pleased to unveil the central artwork for the cover of its upcoming anthology project,

Unspeakable Horror: From the Shadows of the Closet

: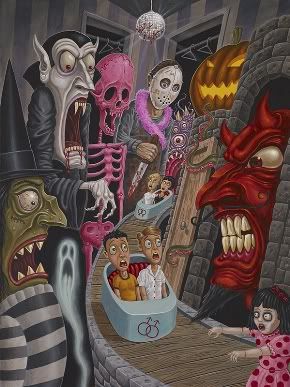 This magnificent artwork was created by

Michael "Pooch" Pucciarelli

, an extraordinary up and coming artist in the Pop Surrealism/ Lowbrow scene. Visually captivating, Pucciarelli's paintings blend the fantastic and surreal - Mexico's Dia De los Muertos imagery, a bit of Bosch and Brueghul, and MC Escher's' architectural elements with an infusion of tattoo culture. His acclaimed "rides" series - intricately detailed carnavalesque worlds in which characters are sent careening on macabre rollercoaster rides through worlds populated by movie monsters, skeletons, and underground pop culture icons - reflects his constant exposure to Florida theme parks, where surreal carnival ride facades reflect the false fronts of modern society. Pucciarelli, who is also a renowned South Florida tattoo artist, created an original work in his "rides" series specifically for the anthology.
From his website:

"Raised on a diet of Ray Harryhausen films, H. P. Lovecraft novels, comics, Walt Disney World and other Florida tourist traps, Pooch paints images that seem to exist in a bizarre afterlife. His art is a visual cocktail of these influences—with a shot of lowbrow culture—shaken and stirred, then served up in a souvenir tiki skull on the Day of the Dead. A self-taught artist, he owes much of his painting skills to over ten years of daily tattooing and drawing."

Cover design duties now fall to the equally talented Deena Warner and her team from Deena Warner Design LLC. Check back for more updates and announcements as our TOC comes together for what promises to be an eclectic and amazing anthology!